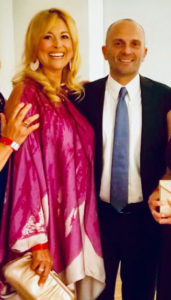 Attorney Antonietta Brancaccio Balzano was guest of The Italian General Counsel Honorable Cristiano Musillo in occasion of the celebration of the Italian Republic.
The exclusive party was held at the Design District Moore Building, one of the most renown buildings in Miami.
Among the selected guests, writers, businessmen, dignitaries, artists and athletes. The menu was authentic Italian, as well as the wine and the desserts.
The General Counsel delivered an important message that underlined the importance of made in Italy and encouraged Italians to be proud of their origins. He concluded his speech citing writer Thomas Mann: "the angels speak Italian in Haven".